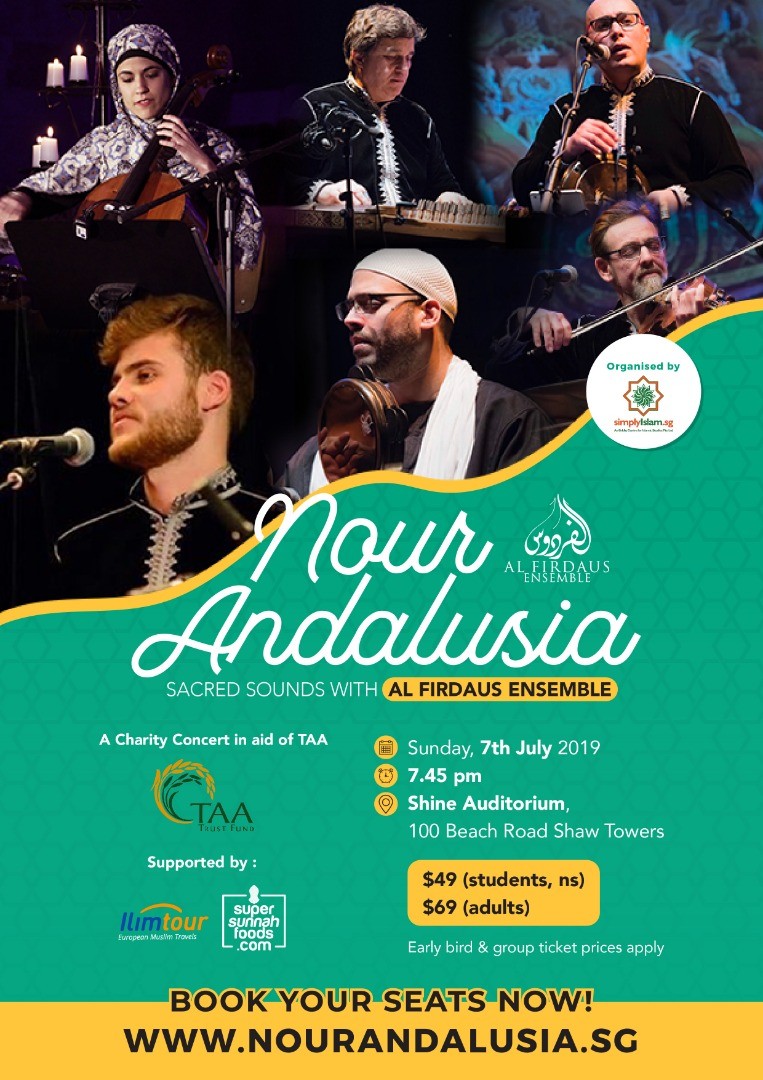 ---
Tags
SimplyIslam, SimplyIslam.sg, Concert, Charity, CharityConcert, Music, Performance, Islam, Spiritual, Al Firdaus Ensemble, NourAndalusia
Location
07 Jul, 2019
From

7:45 PM

to 10:30 PM
Shine Auditorium, 100 Beach Rd, Shaw Tower, Singapore 189702 , Singapore
View Map
Synopsis
The Al Firdaus Ensemble, a performing musical arts group from Granada, Spain, will be performing in Singapore as part their Asia Oceania tour. We honoured and pleased that Singapore has been chosen to be a part of this extraordinary concert series.
SimplyIslam will be organising a charity concert entitled NOUR ANDALUSIAwith Al Firdaus Ensemble, in aid of TAA Trust Fund. The concert is on Sunday 7 July 2019, at Shine Auditorium (Shaw Towers, Beach Road).
Indeed, it is a novel opportunity to showcase professional and polished music performance of a religious socio-cultural genre that is not often heard in these parts of the world. Music and spiritual enthusiasts and aspirants will certainly savour the experience of a unique blend of symphonic instruments like cello and violin, accompanied by Middle Eastern traditional instruments like the Qaanun, Darbuka and the Oud. The concert will also infuse a local cultural ingredient, the Madrasah Aljunied Angklung Ensemble, and a short talk by Ustadh Muhammad Zahid Mohd Zin, that promises to enhance the charity concert par excellence.
The Nour Andalusia concert aims to raise funds for a local and established registered charity, the TAA Trust Fund (TAA) to support its outstanding work in the Malay-Muslim community in Singapore. For more details about TAA click here.
The concert event is organised in collaboration with renowned local musical personalities Art Fazil and Dzul Rabbul Jalil who are curating the event to provide optimum experience for a wonderful evening of sacred symphonies to inspire the soul.
Get your tickets at: https://nourandalusia.eventbrite.sg

Event Details

Nour Andalusia: Sacred Sounds with Al Firdaus Ensemble
Date: Sunday 7 July 2019
Time: 7.45 pm
Venue: Shine Auditorium [Shaw Tower, 100 Beach Road Singapore 189702]
Tickets: $49 (students & national servicemen) + $69 (adults) [early bird and group discounts apply]

Watch special music videos by Al Firdaus Ensemble:
Madha Morisco (Official Music Video)


Celtic Salawat (official video)


Gharnatiya (Official Music Video)


Details
Profile – Al Firdaus Ensemble
The Al Firdaus Ensemble based in Granada, Spain, was founded in 2012 by the English violinist and singer Ali Keeler and includes musicians from England, Spain and Morocco. The group takes its inspiration from the Arabic and Persian word Firdaus, referring to the most elevated abode in Paradise. The intercultural nature of this name reflects the character of the group in which musicians from different countries and cultural backgrounds are brought together with one purpose.
The unique sound of the Al Firdaus Ensemble is the synthesis of different musical genres, which includes original compositions of a more Western classical character with influences from both Celtic and Flamenco traditions, and new arrangements of songs drawn from the rich heritage of traditional Sufi music from Arabic, Andalusi and Turkish sources. The words of the songs are mainly in Arabic drawn from the poetry of the great Sufis from Al Andalus and the Arab world such as Ibn Arabi and Al Shushtari.
Within their repertoire are also musical adaptations of poems in Aljamiado, old Spanish written by the Moriscos using the Arabic script. The Al Firdaus Ensemble hopes to revive the heritage of the Moriscos whose culture was forbidden in its day and has only reached us through manuscripts which they left behind on their expulsion in 1609, only to be discovered recently hidden in old houses.
The Al Firdaus Ensemble has performed in concerts and international festivals throughout Europe, Bosnia, United States of America, Morocco, Algeria, Tunisia, Turkey, Lebanon, and Malaysia. They have also released two CDs entitled "Safa" in 2014 and "Nur" in 2017. They also have an active YouTube channels with tens of thousands of subscribers, with some of their music videos hitting the millions of views.
About TAA Trust Fund
Tabung Amal Aidilfitri Trust Fund (TAA Trust Fund) was founded in 1992 with a mission to help the poor, needy and the less fortunate. Additionally, our beneficiaries include patients from low-income families who are suffering from chronic diseases and illnesses such as kidney failure, stroke, cancer and diabetes. TAA Trust Fund became a Charity Trust under the Charities Act in 2006. TAA was accorded the status of an Institution of Public Character (IPC) in 2007, ensuring that TAA operates with full transparency in compliance with good governance. TAA is also recognised as part of the SG Cares movement and a member of the National Council of Social Service (NCSS). More details here.